Therapy Canine Program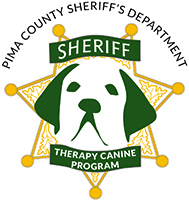 The Pima County Sheriff's Department Therapy Canine Program is comprised of the Crisis Canine Response Team (CCRT) and Corrections Pet Assisted Stress Therapy (CPAST) program. Deputy Leo is part of the CCRT that exist within our Mental Health Support Team. Officer Luke and Officer Leia are part of the CPAST team that exist within our correctional unit at the Pima County Adult Detention Complex
The CCRT will be utilized in a wide range of crisis and mental health situations which will vary from one on one to community wide interactions. In addition to doing crisis response they will also work with community hospitals, mental health welfare checks and departmental crisis response therapy.
The CPAST unit will be utilized internally in our Adult Detention Complex for both employee and prisoner welfare.
---
What is the difference between CCRT & CPAST?
CCRT is the acronym for Crisis Canine Response Team. The program was established to act as a bridge between private citizens and law enforcement members. What makes this program different from others in the state is that the team includes a deputy handler, allowing us to deploy the team to crime scenes. The team has developed relationships with agencies and the community to provide support in distressing situations.
CPAST is the acronym for Corrections Pet Assisted Stress. The team was established after the CCRT Team spent time training at the Adult Detention Complex and positive indicators were identified. The correlation to the CCRT Team and training at the Adult Detention Complex led to the development of CPAST. The proactive approach to inmate contact through rounds in the housing unit and assisting inmates in times of crisis has proven to reduce stress among inmate populations which leads to reduction of suicides, violence and assaults. When these reductions occur it provides a cohesive balance for the corrections officers, thus a less stressful work day. The benefit of employee wellness and enrichment has improved with the addition of the CPAST team.

How is the program funded?
The Pima County Sheriff's Department was given a $10,000 gift from Arizona Complete Health. This gift covered the cost to purchase Deputy Leo, Officer Luke and Officer Leia. The gift also covers the cost for all of Deputy Leo's supplies such as the dog food, kennel, dog bed, toys and car heat alarm.

What training is required to become a therapy dog and how do the dogs and handlers receive training?
Our dogs and handlers train with Jeremy Brown, Owner of The Complete Canine. Each team will complete the AKC Canine Good Citizen Training and train for the Standards of Evaluation set in place by Pet Partners.

Who is Pet Partners?
Pet Partners is the nation's leading nonprofit that registers handlers and animals as teams for animal assistive interventions, therapy, activities and education. They have a set of rigorous standards for both animals and their handlers.

Where did you get the dogs?
All three dogs were purchased from Chiricahua Retrievers in Wilcox, Arizona. They have 25 years of experience in breeding Labradors and Retrievers.

Why are the dogs registered and not certified?
Therapy animal teams are registered, not certified. Certification implies an independent third party has assessed an individual's mastery of knowledge and skills. For example, a doctor is certified by a Board of Medicine, not the medical school where they completed their education. At this time, no independent certifying bodies for therapy animals exist.

Why didn't you adopt the dogs from a shelter?
We chose a breeder who has vast knowledge in the dog's blood line, temperament and behaviors. There is uncertainty with the temperament of an adopted dog which is not advantageous for the setting the dogs are utilized.

Is there a difference between service dogs, therapy dogs and emotional support dogs?
A service dog is trained to help people with disabilities such as visual impairments, mental illnesses, seizure disorders, diabetes, etc. A therapy dog is trained to provide comfort and affection to people in hospice, disaster areas, retirement homes, hospitals, nursing homes, schools and more. Emotional support dogs provide their owners therapeutic benefits through companionship.